Our joint research with United St Saviour's Charity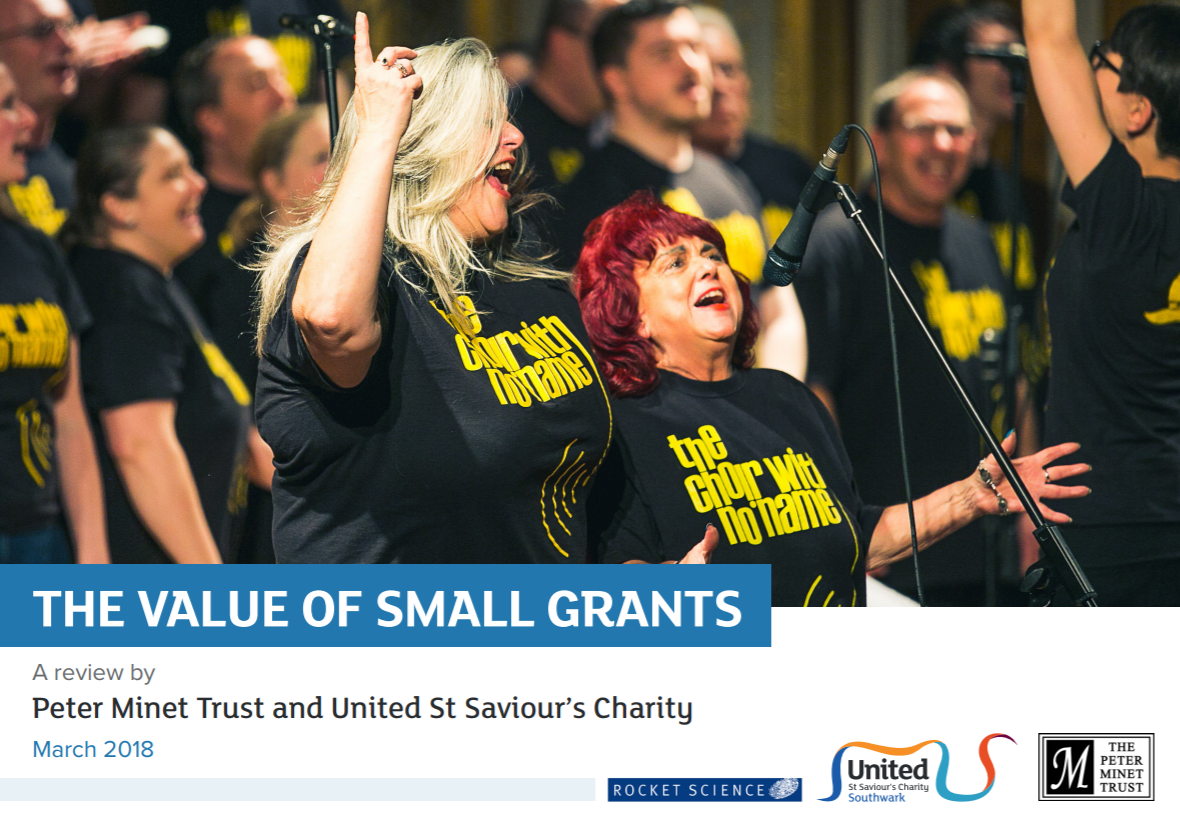 Peter Minet Trust and United St Saviour's Charity, a Southwark-based funder, decided to work together in 2018 to explore the value of small grants of £5,000 and under. All of Peter Minet Trust's grants were one-off grants of £5,000.
We both wanted to find out more about the value of large numbers of small grants and undertook a consultation with Rocket Science, an independent consultancy specialising in the voluntary sector. 129 charities and voluntary organisations were surveyed and 22 took part in a workshop.
Key messages: challenges facing grantees 
Local funders are increasingly vital to local charities as demand increases – they fill gaps and fund projects other funders won't fund, particularly as statutory funding is cut and competition for national funding increases
Charities said covering core costs was their biggest challenge; for grassroots community organisations this was general fundraising
Most organisations want core, multi-year funding, but many grassroots, volunteer-led organisations want funding for community one-off events – both types of funding are hard to find at a local level
Small grants are of real value when they help leverage other funds
Organisations want United St Saviour's Charity and Peter Minet Trust to provide more than funding – networking, training and advocacy
Key messages: challenges facing funders
The costs of administering small grants are relatively high in relation to the amounts awarded
Measuring the impact of the grants is not always easy
Demand for Peter Minet Trust is increasing and the Trust is oversubscribed, turning down 77% of applications. This is unsustainable for the Trust and an organisational challenge for applicants. 
Grantees value the opportunity to meet and share their work with funders, and funders learn much more about the difference grantees are making by visiting organisations. This is a challenge for Peter Minet due to time constraints.
How Peter Minet Trust responded:
We know that charities value small grants, but we also know about the urgent need charities have for larger, multi-year grants to cover their core costs.
We are now awarding a smaller number of larger, multi-year grants for unrestricted funding to smaller charities in based in Lambeth and Southwark. We will develop relationships with charities in a way that isn't possible with large numbers of grants. 
We know this means there are charities we won't be funding any more. However, as a small funder with limited resources, we feel this is the best way to respond to what charities are telling us. We are also working more closely with other local funders to highlight other funds available and develop new funding opportunities.
The Value of Small Grants: A review by Peter Minet Trust and United St Saviour's Charity: March 2018: Summary Report
Full Research: Peter Minet: a review of the Trust's grant programmes